Funny Things Happen When You Work For A Mouse: ONE MAN'S TRUE LIFE ADVENTURES WHILE WORKING AT DISNEYLAND
By Andrew B. Remnet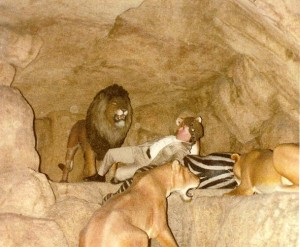 After years of telling the stories of my experiences while working at Disneyland to friends, family members, co-workers, or anyone that would sit still long enough to hear them, I decided to write them down for posterity. In addition to my stories, I was able to dig up many photos to enhance the true tales, not to mention fill in some of the gaps in my memory. It is my hope that this one man's account of being a cast member at the Happiest Place on Earth will not only entertain people now, but will be a personal record of a small part of my life for future generations to come.
This book includes over 120 rare images, most of which have never been seen outside my immediate family. This book also features anecdotal stories that are true and correct as from my point of view. It will be a welcome addition to anyone remotely interested in Disneyland.
Square 7×7 inches (18×18 cm) 120 pages
Published: September 15, 2008