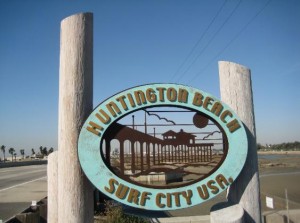 This CD contains over 2500 photos at 800 x 600 pixels (resolution) that show Huntington Beach in great detail. In this photo documentary CD you will find shots of the desolate beach, the famous Huntington Pier in a state of uncrowded glory, and Main Street blocked Duke's restaurant and Jack's Surf Shop.
For those of you that want to see some action, you will find hundreds of photos showing Surfers strutting their stuff in the water. To end the day, there are many views of the beautiful California sunset highlighting the sparkling waters as it dips behind Catalina Island off on the horizon. With all of this coverage by way of unedited personal snapshots, there will be something here for everyone. You will not be disappointed.
To purchase this CD via Paypal, please click the ADD TO CART button below.
FOR FURTHER INFORMATION ON HUNTINGTON BEACH VISIT:
www.surfcityusa.com